The AI-powered features on You.com are starting to draw attention. Artificial intelligence-powered You.com is a search engine with a chatbot, an image maker, and other features. Have you got enough of the ChatGPT difficulties, the unstable Bard AI from Google, the Bing AI waitlist, and the fact that any AI tool you like to use is expensive? Unexpectedly, You.com has been offering the same AI-powered search options since 2020.
You.com has used AI since the service's inception, allowing users to submit questions using conversational or natural language. The company launched YouChat on December 23, 2022, a chatbot that functions similarly to ChatGPT and offers practically rapid responses. In a genuine, conversational tone with references, it can translate, provide ideas, summarise text, send letters, and even generate code.
What is You.com AI-powered search engine?
You.com is the first search engine platform that is made available to the general public. It offers customers a condensed online version, improved privacy settings, quick insights, expanded capability for mobile apps, source-specific customisation, and AI-powered capabilities.
Bryan McCann and Richard Socher, two ex-Salesforce employees, created the website in 2020. The search engine received $20 million in funding from Marc Benioff, the creator of Salesforce, after it was revealed that its public beta would begin in 2021.
Currently, You.com AI offers four in-demand capabilities that people are willing to pay for but cannot otherwise obtain from major corporations like Microsoft, Google, and others, despite their great demand:
Do you know that they are currently available and cost nothing to use? If you believe it to be untrue, let's combine these traits and see what happens.
---
YouChat: A rival to ChatGPT
The AI chatbot YouChat 2.0, introduced by You.com, functions similarly to ChatGPT and doesn't require an invitation. You can use You.com AI's search capabilities just like any other search engine. Nevertheless, it also features a chat option that you can access by clicking the "YouChat" button. If you're not happy with the results, you can also click on one of the standard search results on the right side of the page.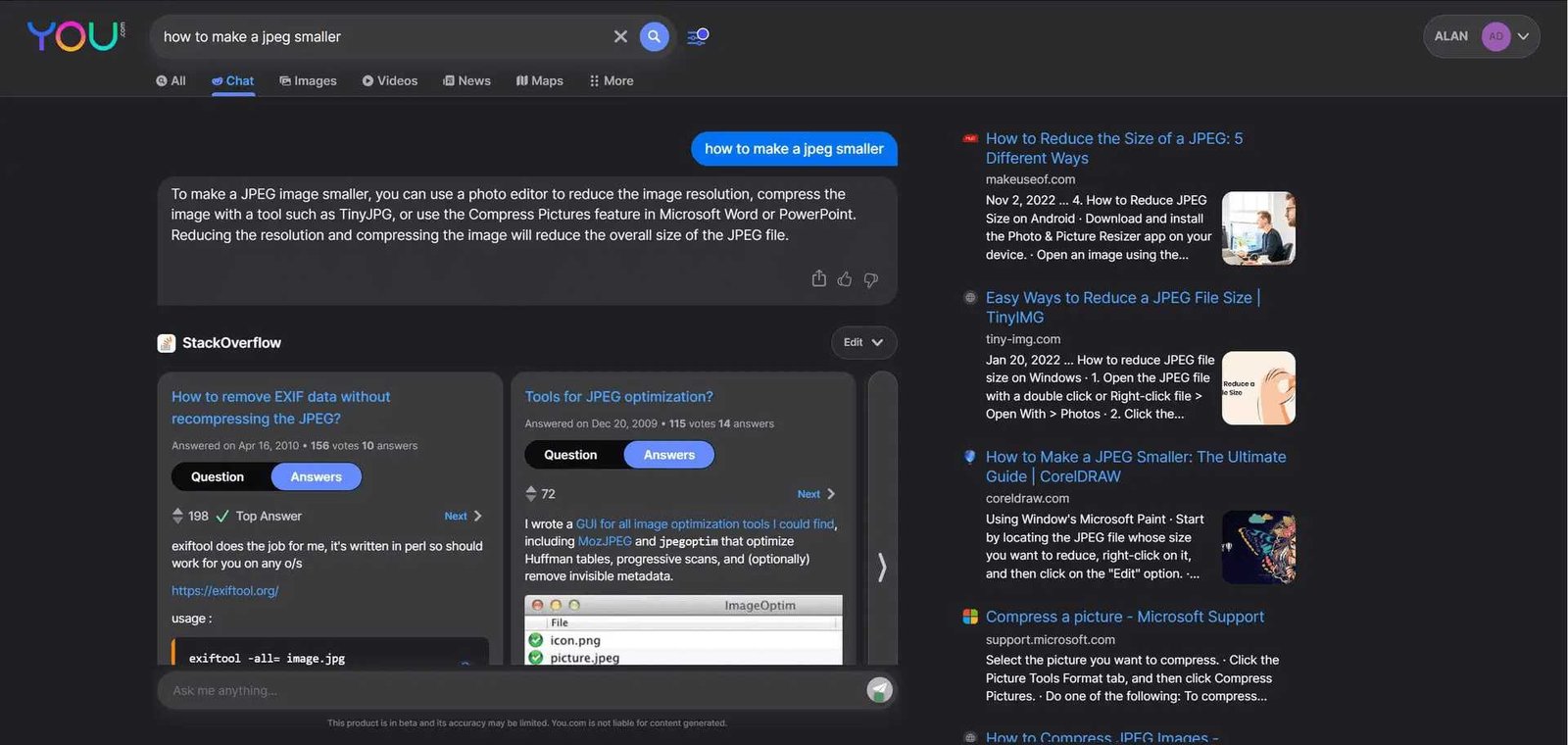 The two services are essentially interchangeable because the languages are so similar to those of ChatGPT. Page-long posts are still possible on YouChat. The GPT model from OpenAI, however, is more refined in this area.
YouChat 2.0 is the first web search to combine cutting-edge conversational AI with community-built apps in order to deliver a unique and captivating experience for each search. YouChat 2.0 may offer results to users in the form of charts, photographs, videos, tables, graphs, text, or code thanks to its C-A-L (Chat, Applications, and Links) blended big language paradigm. You won't be as likely to get sidetracked from your search and open a lot of tabs as a result.
Traditional web searching is significantly outperformed by YouChat 2.0 in several key aspects.
In the first place, users may now write text, code, and generate images without ever leaving the search results page, all with the help of generative Ai algorithms.
Second, YouChat 2.0 provides a visually compelling interface, fusing chat functionality with the most recent news and trending topics from apps like Reddit, TikTok, StackOverflow, Wikipedia, and more.
Last but not least, the method gives people reliable information with proper citations, which is often missing from regular search engines.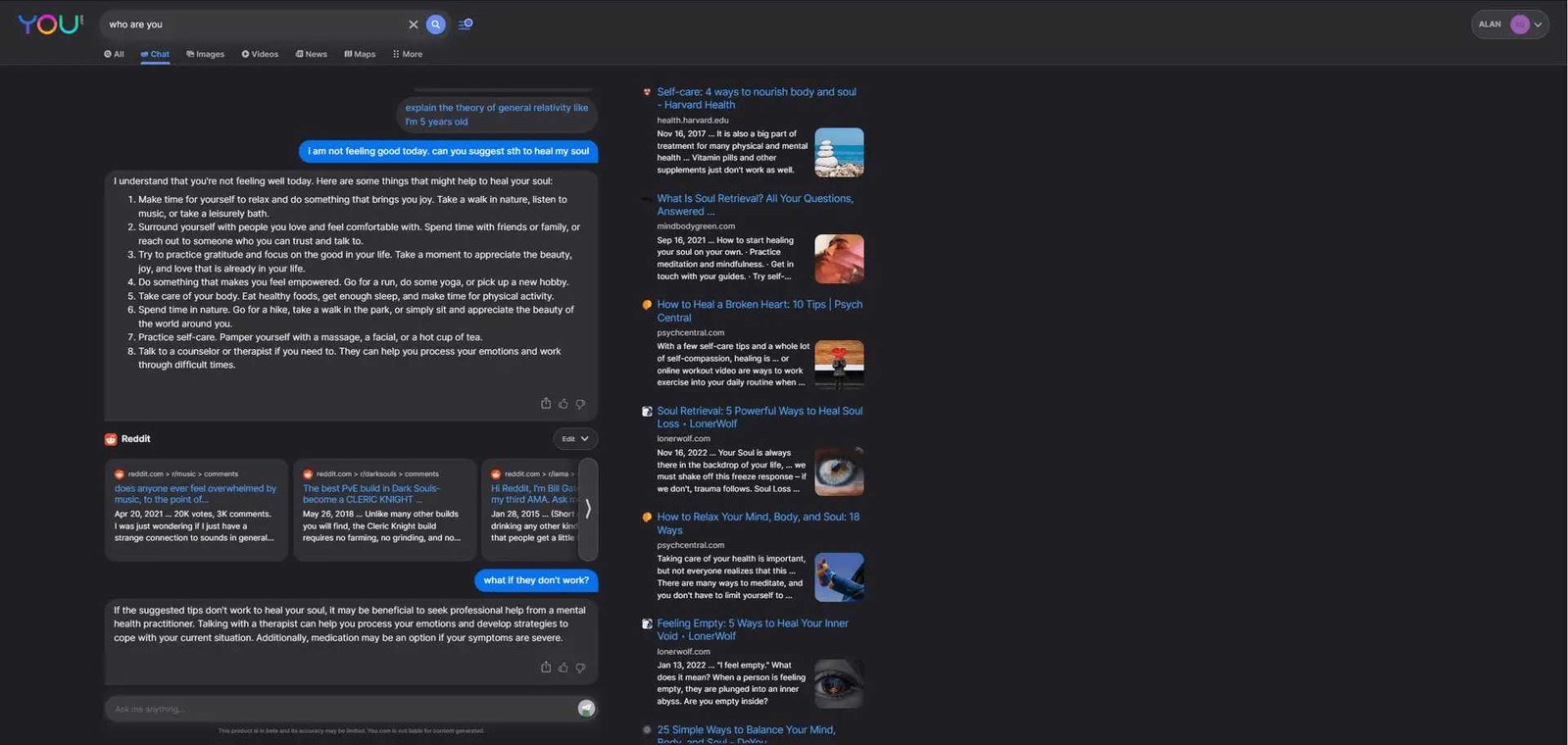 YouChat is currently operational and already handles one million searches every day, making it an excellent resource for people looking for information and solutions online. If you want to learn more about the future course of the web, we advise you to read it.
To use YouChat:
Are you unsure about how to use YouChat? In a video, You.com outlined seven ways YouChat may improve daily living.
---
YouCode: Hey coders, do you need a hand?
A private, ad-free search engine designed especially for the developer community is called YouCode. Access to time-saving tools like StackOverflow, GitHub, and others is made quick and simple. It's designed to make it simple for programmers to find solutions to their issues. YouCode is a helpful tool for developers of all skill levels thanks to its various features, including its search bar that understands plain language, its code samples, and its collection of carefully chosen resources. Additionally, it offers features made specifically for developers, like a code editor and a debugging terminal.
Huggingface will save you time while you're developing by writing routine tasks' code for you based on your commands. The tool's flexibility makes it useful for developers of all experience levels. Regular expressions and Kubernetes commands are both currently supported.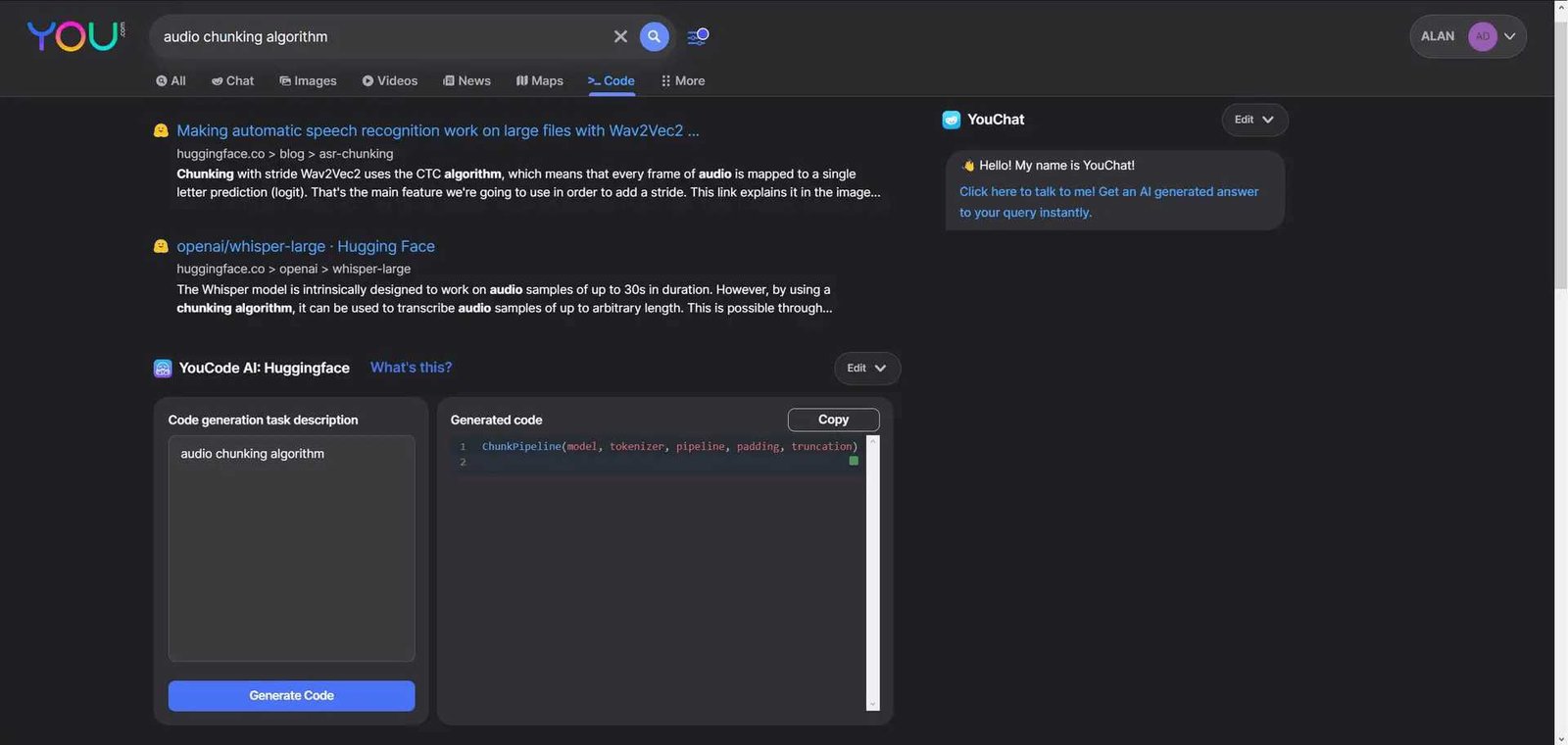 One of the twenty or so developer-specific apps offered by YouCode, the specialist search engine for programmers, is YouCode AI: Huggingface. It does the following tasks:
Access to AI tools, including code generation
Authenticate your Github to search through private repositories and issues
Your own personal Meeseeks box
Advanced Programming language filter for your Search Results
---
YouWrite: Can it be the best friend of writers?
A web-based service called YouWrite provides writers, bloggers, and authors with writing possibilities. With YouWrite, authors can easily and rapidly create their own book, blog, or magazine on their own website. What distinguishes YouWrite from YouChat? YouWrite is, regrettably, a paid tool. The free version of YouWrite is restricted to 10 enquiries per day.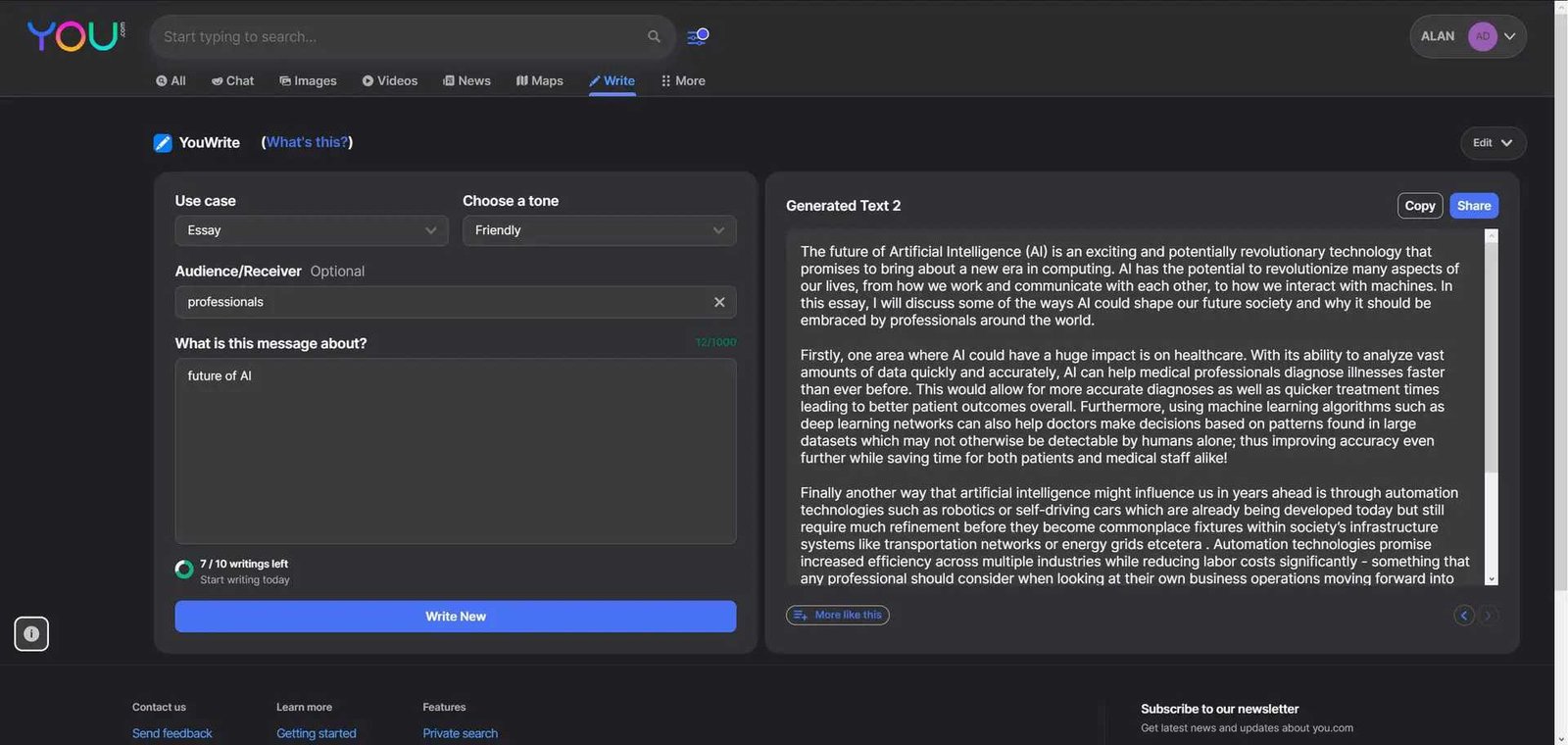 Follow these steps to use YouWrite:
Enter your input

Enter your message, audience, and tone in the "Input" tile on the left side

Generate text

Click on "Write new" to generate using AI text based on your input

Share

Click on "Share" to generate a link to access your results later or share with friends
YouWrite pricing plans
YouWrite has two-tiers:
Basic – $1 / week

250 writing samples (~ 25,000 words)
6 standard ways to write: email, paragraph, social media post, headline, blog, essay
5 main tones

Plus – $2 / week

1000 writing samples (~ 100,000 words)
6 standard ways to write: email, paragraph, social media post, headline, blog, essay
5 main tones
Generate links to share or access later
4 additional ways to write: Advertisement, poem, screenplay, sentence simplifier
5 additional tones
YouWrite is the only paid You.com AI feature.
---
YouImagine: Let's make some AI art
You.com's YouImagine is an AI image-creation tool. The creation of images is powered by artificial intelligence models including Stable diffusion 1.5 and 2.0, Open Journey, and Anime.
These days, who doesn't adore AI image generators? Moreover, it includes an AI image resolution booster.
YouImagine is one of the most distinctive You.com AI feature.
---
Bonus: YouSocial
There are many things on You.com, but YouSocial was one of our favourites when we tested them all. You can modify the social media sites that You.com offers you on this unique search page for the content you're looking for.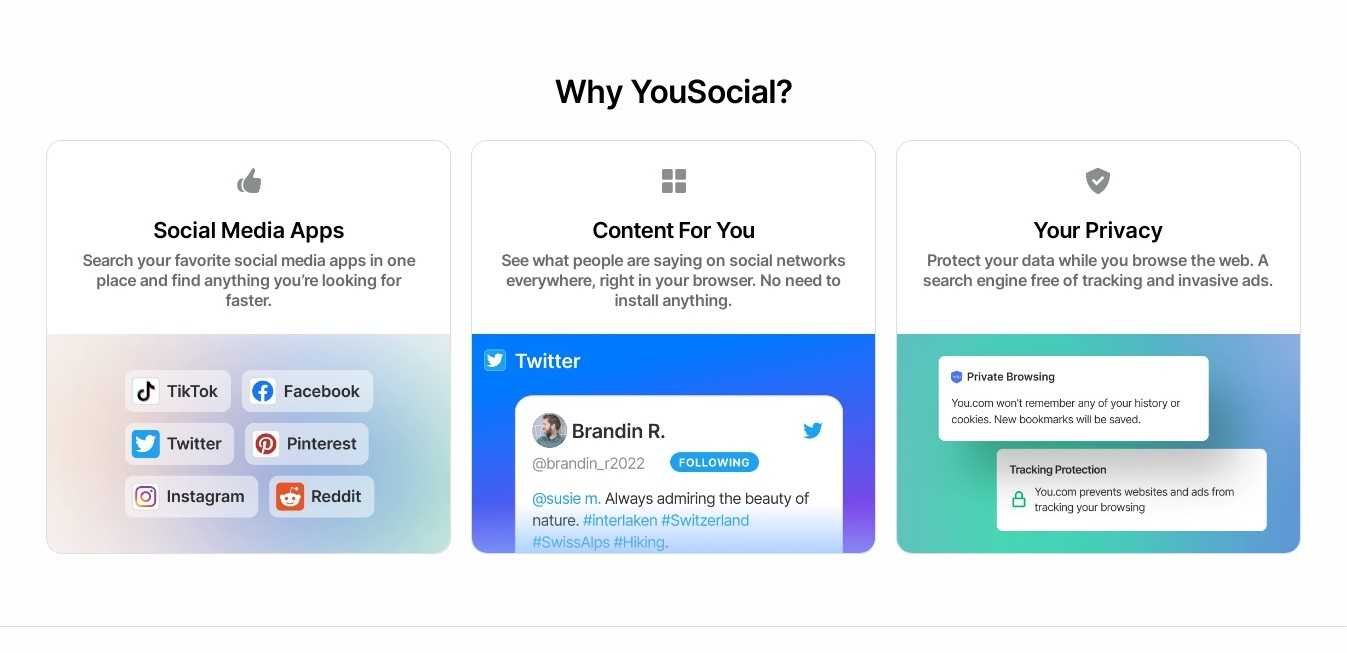 It's quite useful, isn't it?
---